---
WISHING TEAM HWANGE A HAPPY, FULFILLING, SAFE AND SUCCESSFUL 2018.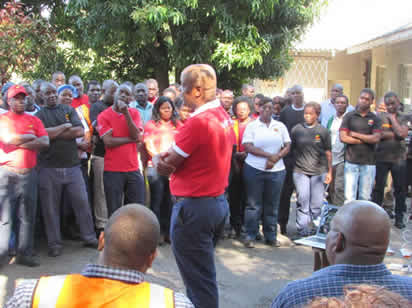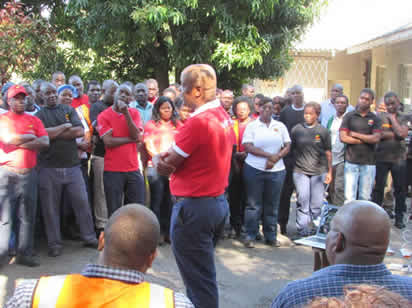 We achieved the following in 2017:
• Entered into the Creditors Scheme of Arrangement which created the operating space for the company to implement its turnaround and business plans
• Production rose to 1,3million tonnes for the year compared to 969 000tonnes in the previous year
• Resuscitation of 3 Main underground operations commenced and the refurbished Continuous Miner was delivered to the mine
• Team Hwange embraced Project Gijima that saw the following results:Return to service of three buses and staff getting to work on time
Focus on correct spares procurement
Availing of our own production equipment such as Hitachi and Liebher excavators
Production increased from an average of 30 000tonnes in the first quarter to 300 000tonnes per month in the third quarter.
Reduction of duff generation from 40% to 25%
PPE is available to all staff and the HIRA and complaints book was relaunched.
Export orders increase.
Deliveries and sales peaked at 171 000tonnes per month from a low of 30 000 tonnes per month.
Innovative approaches resulted in team Hwange now producing flint grades.
Available dump trucks increased to 12 including Bell ADT's, and own front end loaders were recovered and returned to service.
Processing throughput still needs to improve, however the wet screening plant at No 2 was recovered and brought back into operation.
The teamwork, motivation and morale in the company improved with the payment of 7% deposit to all staff in respect of salary arrears and the first of thirty six instalments was paid in December 2017 to all staff.
Cost cutting measures were taken throughout the year to align the cost and productivity levels.
The CCTV security system and the breathalyser testing have improved our security and safety environments.
We have more to achieve in 2018 and therefore safety first, hard work, teamwork, motivation, professionalism, results orientation will be our mantra. We will build on the successes of 2017 and accelerate our efforts so that our gains multiply. Our strategic road map was laid out already. Implementation of our strategies and performance management in all areas is key. We will work relentlessly so that our overall company objectives are met and we will take our place in the national economy as one of the companies that will significantly contribute to the increase in the national gross domestic product.
Our key strategies for this year and beyond are:
Sustain the scheme of arrangement to stay the creditors and allow for operating space to return to increased production and profitability.
Stop accumulation of liabilities and stay current on all business transactions.
Increase production to at least 400 000 MT per month.
Ensure that all non-core activities are financially independent.
Improve the product mix by configuring our production as Mota Engil producing at Chaba open cast mine; own equipment to operate at JKL open pit mine and underground mine for coking coal; processing to lean towards high value products and marketing to retain and grow our platinum, gold and silver customers .
Focus on least cost production techniques and grow business value by returning to profitability through cost reduction and increased sales volumes.
Pursue multiple funding options to generate adequate capital expenditure and working capital.
Ensure systems, controls and people capability to deliver value.
Commence exploration and drilling of the Western Areas and Lubimbi West Concessions while pursuing funding options for mine development
I would like to share two quotations in closing:
"Don't waste your precious energy on gossip, energy vampires, issues of the past, negative thoughts or things you cannot control. Instead invest your energy in the positive present moment"
"Don't compare your life to others. You have no idea what their journey is all about."