Exploration
Hwange Coalfield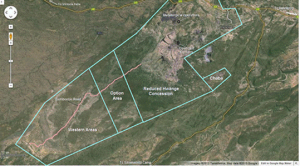 Hwange Coalfield is situated in the North-Western corner of Zimbabwe. The sediments of the area are part of the Karoo system.
The main seam comprising of Vitrinite-rich bright banded coking coal and durain rich power coal rests directly upon the lower Wankie Sandstone with a conformable contact. The seam forms the base of the unit known as lower carbonaceous mudstone overlain by Wankie fireclay. Generally within the Opencast area this
Exploration
combination of fireclay and carbonaceous mudstone form the Overburden stripped by Dragline mining operations. In areas where the depth of Overburden exceeds 35 metres, a coarse grained upper Wankie sandstone is encountered usually in the form of a capping on top of small kopjes.
---
Chaba Mine
Operations on Chaba mine commenced in February 2006 with overburden production so as to expose coal. First tonne of coal was mined in April 2006 and an overall 22563 tonnes was mined in the same month. The mine's output has been going up every month since then. It was developed as a new strategy pip to exploit the Chaba East reserve as this presented best option to preserve Hwange Coking Coal (HPC) raw coal mining capacity to levels consistent with established demand as well as opportunities for a consistent supply of low phosphorous coal from the dragline pit that has the greatest potential to capture new markets for locally and exports.
Highlights
Reserves +90 million Tons
Planned production 200 000tpm (Tonnes per month)
Life of mine 40 years
Exploration complete
Mine Schedule / Plan Drawn
Exposing coal for bilk testing
Use as strategic pit for current operation.
Coal mining operations commenced on 5 April 2006